Good Morning Everyone – Sunday again – This is properly the day we don't wear a bra – oh, it feels so good – but it does not help our breast muscles – it allows them to relax – the last thing we want – so let us look at some sexy bras which will reshape us.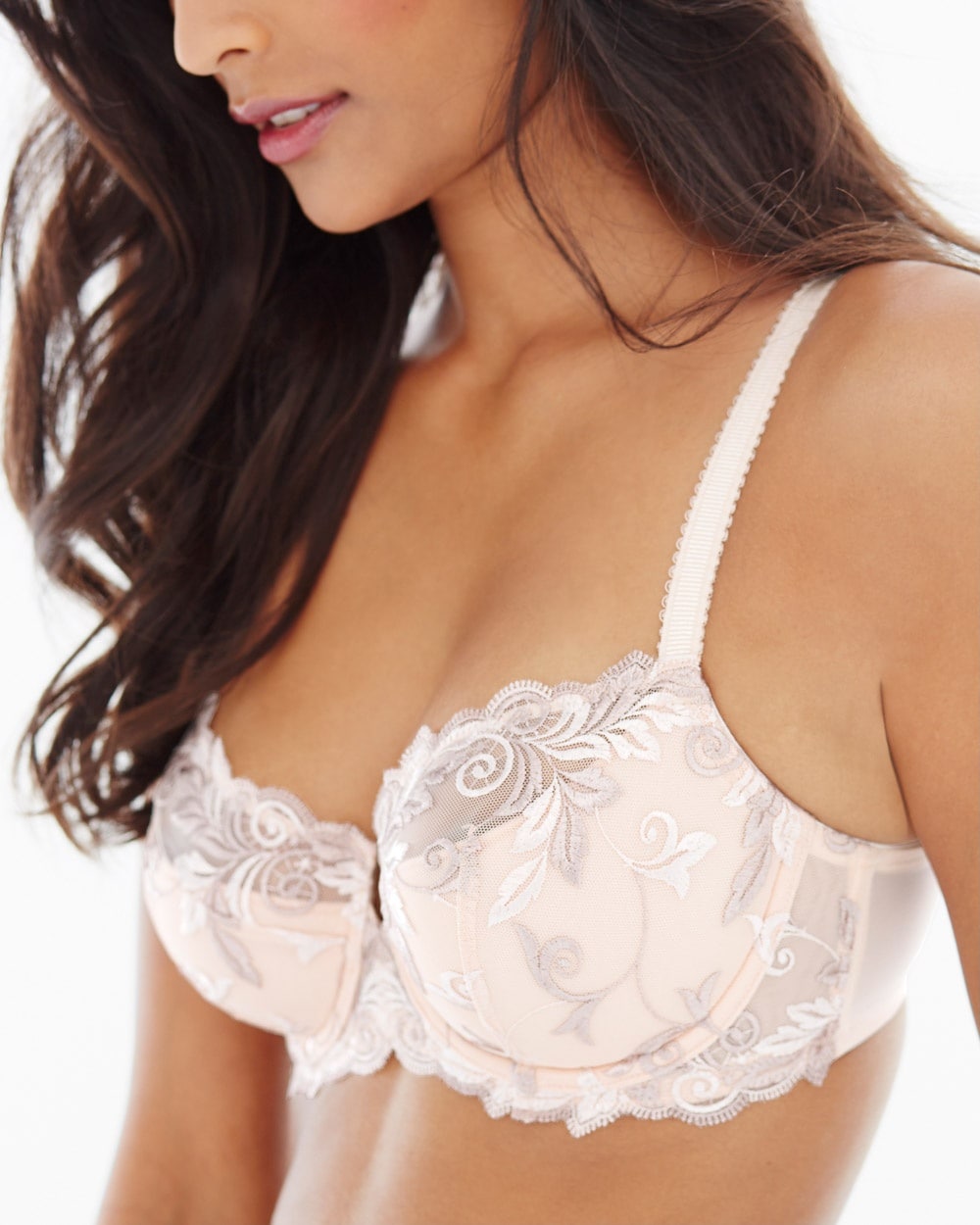 The idea of improving or supporting the breasts goes back a long way. Greek women wore a kind of band around the chest. It served its purpose but did not flatter the bustline. When the corset came, engulfing the whole figure, breasts looked sexy and provocative but women were not always comfortable. Today we're lucky because we can look sexy and be comfortable at the same time. In choosing a bra for:
A VERY SMALL BUST – MAKING IT LOOK BIGGER:
• A bra with pre-shaped cups (which is formed to look like a well-shaped bust).
• A slightly padded bra, the type that is padded all over. It feels like several layers of material without any rubber inside.
• A bra that is padded only on the lower part of the cup. The padding is like a small pillow supporting the breasts.
• A bra with an underwire. This always helps to push the breasts up and gives them a fuller look.
SHOWING CLEAVAGE.
With a very small bust it is difficult, if not impossible, to create a cleavage. However, you can tum this into an advantage by not wearing a bra and having a decolletage down to your waist (if you are brave enough.) It will look sexy and you will arouse the curiosity of everyone who sees you.
A SMALL BUST   –  MAKING IT LOOK BIGGER:
• An underwire bra will do for this type of bust what a padded bra does for a very small bust. It will give support and push it up enough to give a fuller look.
• A push-up bra. Remember the one Warner brought out in 1969? It was sexy, exposing part of the breasts and at the same time giving an illusion of volume. The straps must be on the outside of the cup to create a fuller look by really lifting the breasts.
• A bra with moulded cups, if you want your bust to look round but not pointy. (If you want a pointed look buy bras with seams and darts in the cups.)
NOTE: A word of caution: If you want your bust to look bigger or more seductive, stay away from the soft no-bra looks. The moulded ones give the same general effect as the no-bra look, but they will make your look sexier.
SHOWING A CLEAVAGE:
• A push-up bra that pushes the breasts both up and together gives the best effect.
• A demi-bra is another style for a provocative look. It leaves the upper part of the breasts exposed, plus showing a cleavage.
A MEDIUM-SIZE BUST  – MAKING IT LOOK BIGGER:
• An underwire bra will push up the breasts giving a fuller look.
• A push-up style—again, be sure the straps are on the outside.
•A no-bra can be worn best by this size. It gives a very natural, full look and can be very sexy under knits. Often, however, the nipples can be seen through the soft material. If you don't want this effect, put plasters over the nipples.
SHOWING A CLEAVAGE:
A push-up bra that is cut away in the middle, exposing the breasts. If you have a natural cleavage and want to show it, don't wear bras with moulded full cups; instead wear lacy ones open at the middle.
• If you want to wear a plunging neckline without showing your cleavage,
choose a bra with cups far apart and connected by only a small piece of elastic. It will separate the breasts and allow you to be sexy without being obvious.
NOTE: For these sizes many styles have the closure in front. this is not only more comfortable when getting dressed, but also more gracious when getting undressed. If you have a choice and are not sacrificing the style and shape you want, choose a bra that fasten in front.
A BIG BUST  -MAKING IT LOOK SMALLER:
• A minimiser bra. This type of bra will reduce the breasts up to one size. It does this by pulling the breasts apart rather than pushing them together.
• A bra with round cups, not pointed ones. The pointed type adds volume to a large bust.
An underwire bra with moulded round cups. It separates the breasts and gives a youthful look.
NOTE: A word of caution" Pay special attention to the straps of your bras. they must be adjusted so as not pull your breast up too high, but high enough to avoid sagging. How they feel is not the only factor here; see how you look with your outer garment on. A sagging look may often result if the elastic straps are worn out. A drooping bust looks heavy and not at all sensual. Remember that a firm, upstanding shape will improve your image one hundred percent.
A bra that does not pull the breasts up too high. To avoid this be sure the straps are in the middle of the cup, over the nipple.
TO REDUCE CLEAVAGE:
A bra that has space between the cups to separate them.
NOTE: The proper was to try on a bra, whatever size you are, is to close it and then bend forward and down. this will place your breasts well into the cups.
**********
There are hundreds and hundreds of bras out there and I find it very confusing, especially in department stores where often there is nobody to get you another size when you stand undressed in a fitting room. Therefore, I find it easier to go to a specialty store – you will find them by going on-line – the staff is always helpful, assuring you that you got the bra that is best for you.
The right panties and coordinating your lingerie wardrobe will be next Sunday's topic.
Until then – Never forget –A Smile Changes Everything!
Brigitte